Sports Management Site Generates 96% Revenue Growth in 2021 with diDNA Tech

Web viewability increased from sub-20% to 80% within four weeks

Programmatic ad revenue grew 96% from 2020-2021
A major recreational sports team management site's monetization strategy had been focused on their mobile app, leaving a gap on the web side of their revenue generation. For example, web viewability rarely broke 25%. Programmatic ads generated the majority of ad impressions, but CPMs were 74% lower on average compared to direct, thus contributing a significantly lower share of revenue.
The client sought outside help to improve their monetization strategy and increase incremental revenue for the company.
Starting in May 2021, the diDNA team was able to rapidly onboard the client to the full monetization technology solution. All ad units, demand, and tech was filled by diDNA and its strategic portfolio of ad tech partners.
By leveraging diDNA, the client and diDNA were able to work together to strategically test features, implement new technology, and quickly adapt to data as it came in.
About the client
The client is a sports team management app that is built to make team, club, and league communication and organization easier. They have over 24 million users across more than 19,000 sports organizations and boast a 98% customer satisfaction rate.
They offer 4 pricing tiers, from a free app to an enterprise-level solution for large sports organizations. An additional revenue stream for is by delivering relevant, high-quality ads to its users as they navigate the platform.
wNew technology included:
Auto Refresh – automatically refresh ads after a user spends a certain amount of time on a page, generating additional ad impressions in one ad unit on a single pageview

Lazy Load – to increase page load times, ads only load when they come into view

Smart Ad Serving – diDNA's machine learning algorithm continuously compiles data around CPMs, real-time bidding, and volume to determine the optimal time to show certain ad units and demand partners
In addition to diDNA technology, the operations team immediately implemented weekly initiatives designed to drive up programmatic CPMs, including:
 
Interstitial

Price Floor – weekly experiments conducted to drive up CPM by incrementally increasing floors

Granular Price Flooring – floors created around ad sizes and ad forms
The impact of diDNA on the client's monetization program was immediate and continues to drive incremental revenue gains.
Web viewability rapidly increased from 25% to over 80%.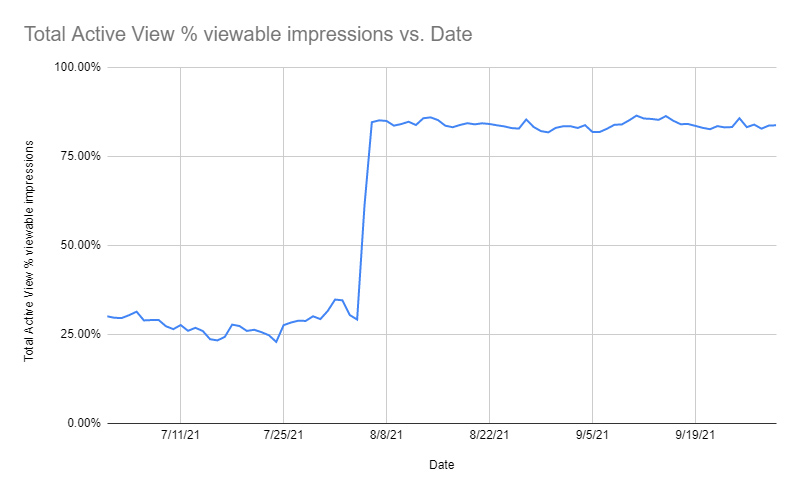 Q1 2022 CPMs increased 18% compared to Q1 2020 and 2021, coinciding with a 40% increase in revenue.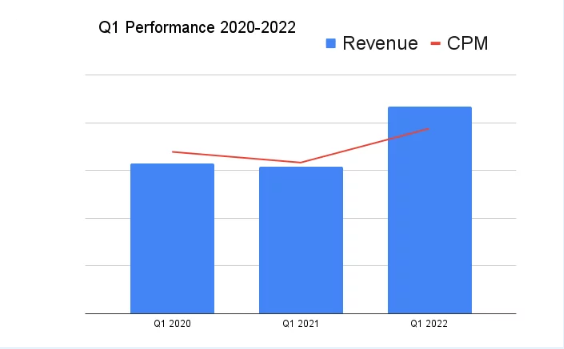 Overall revenue increased 96% from 2020 to 2021, with an immediate increase starting in Q2 2021, when diDNA came on board.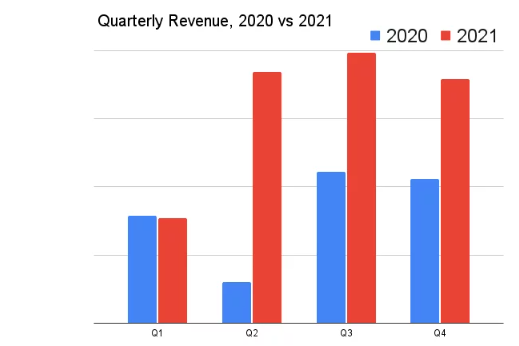 The diDNA team is continuously looking for ways to improve performance moving forward. Future tests include outstream video in-app to generate higher CPMs, adding additional ad sizes to create more inventory, and building an in-app Prebid connection to maximize programmatic revenue.
Want To See How
diDNA

Can Help Grow Your Business?

Designed for publishers, ad tech partners, and everyone in between, diDNA sits at a unique crossroads between machine learning software and an experienced team of ad operations professionals, dedicated to driving revenue increases for your business.