International Content Distributor Accelerates Ad Revenue Growth with diDNA

Fill rate increased 40% using diDNA, from 70% to 98%

Nordot saw a 24% lift in RPM using diDNA technology
In 2019, this organization needed a monetization partner to match their status as a leading provider of content syndication, delivery, and recirculation solutions for global publishers.
The ad stack was limited to Google AdSense. CPM and key ad revenue metrics were on the rise, but the team believed there was significant opportunity for growth if they could expand to additional ad networks, experiment with different ways to generate ad revenue, and bring in more demand. A lack of visibility into performance was hindering growth, and they were actively considering bringing in a new team member as part of the ad ops team to help optimize ad revenue.
Starting in early 2020, the diDNA team was able to rapidly onboard the client to their strategic  partnership program. A clearly defined onboarding process that outlined key checkpoints and next steps, coupled with an all-hands approach to customer service made the transition fast and easy with zero disruption to their content network. 
diDNA brought a new approach to revenue generation to the company, including increasing access to over 70+ premium demand partners to connect to their publishers' content, a focus on real-time reporting, experimentation, and a dedicated team of ad ops professionals that consider themselves as an extension of the team.
The real-time reporting dashboard gave the client a new view into the potential of their advertising campaigns. It provided valuable context to campaign performance, quick access to key diagnostic tools, and facilitated a solutions-based methodology when it came to identifying opportunities for revenue growth. 
The diDNA team has impressed with its customer-centric approach to continuously optimize ad inventory and deliver above-industry earnings for their clients. Whether it's weekly meetings to review performance and new initiatives, or their rapid answers to support tickets, a key component to the success of this program has been the transparency, communication, and dedication of the diDNA team.
The client has delivered an additional 4.8 billion pageviews to publishers during the past year, achieving a 19% lift in revenue per thousand impressions (RPM) during this period using diDNA's technology, and 24% when compared to the previous year before the partnership began.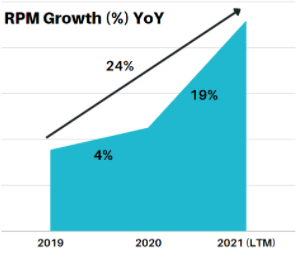 Viewability

has doubled, from an average of 40-50% prior to working with diDNA to an average of 80-90% 

Fill rates

have increased 40%, from 70% ad requests to 98%
About the Client
This client is a technology platform that helps publishers earn more revenue and increase their distribution of content. They work with 2,000+ publishers across the globe, including Reuters, AFP, DPA, and many more.
Their offerings include syndication, content delivery and innovative recirculation solutions for publishers to gain additional monetization and visibility.

"…our partnership with diDNA has been incredible, as we have seen a significant lift in revenue."
"We are a key source of additional revenue to publishers and we are constantly trying to help them earn more. This is where our partnership with diDNA has been incredible, as we have seen a significant lift in revenue. Also, what sets diDNA apart is that they are collaborative – always open to ideas and bringing new offerings to the market together."
– Client Operations Lead
Want To See How
diDNA

Can Help Grow Your Business?

Designed for publishers, ad tech partners, and everyone in between, diDNA sits at a unique crossroads between machine learning software and an experienced team of ad operations professionals, dedicated to driving revenue increases for your business.