dIDNA Helps GlobalRPh Increase Ad Revenue 97.7% with Viewify

Web viewability increased by 11 percentage points immediately.

Programmatic ad revenue grew 96% from 2020-2021
Despite high CPMs that are common among medical publishers, GlobalRPh felt there was potential to realize additional revenue based on looking at their ad performance. Viewabilty in particular was an area for improvement, and they sought out a tool that could help improve those numbers. They were already satisfied with their existing ad tech solution, but they were eager to explore the possibilities offered by diDNA's Viewify solution. At the same time, GlobalRPh had requests from specific bidders in their stack to increase ad viewability.
Overall, the primary objectives were to enhance viewability, increase impression volume, generate more ad requests, and ultimately boost daily average ad revenue.
diDNA's Viewify proved to be the perfect solution for GlobalRPh's challenges. Immediately upon implementation, Viewify increased GlobalRPh's viewability by 11% in 36 hours. This boost was primarily attributed to Viewify's intelligent lazy load feature, which ensured that ads were only loaded when they were in the user's view, eliminating wasted impressions that were previously loaded out of sight.

About the client
GlobalRPh.com, founded in November 2000 at the VA Medical Center in Detroit, Michigan, focuses on providing practical software and tools for healthcare professionals. Initially specializing in intravenous dilution guidelines, the company has gained a strong reputation for addressing clinical practice inefficiencies.
They now offer disease-state management algorithms and user-friendly calculators, making them a preferred resource for healthcare professionals. Their intuitive interface caters to both healthcare experts and the general public, but it's essential to note that their service is for informational purposes and not a substitute for professional medical advice.
In addition to enhancing viewability, Viewify introduced the ability to set granular controls related to ad refresh, a powerful feature that played a pivotal role in increasing impression volume by 87.5%. The diDNA team worked closely with GlobalRPh to design a smart refresh strategy that met their unique needs. By optimizing ad refreshes, GlobalRPh was able to serve more ads and generate more ad requests, creating a substantial increase in impression volume and revenue.
The increase in viewability as well as increased impression volume combined to drive a 97.7% increase in ad revenue in the time leading up to implementing Viewify when compared to the time immediately after Viewify was activated. 
Throughout the implementation process, the diDNA team, the GlobalRPh team, and the GlobalRPh ad tech vendor maintained constant communication, ensuring a seamless integration of Viewify with the existing technology stack. This collaborative effort was a key factor in the project's success, as it facilitated a smooth transition to the enhanced solution.
The impact of diDNA on the client's monetization program was immediate and continues to drive incremental revenue gains.
Viewability
An immediate increase of 11% in viewability helped GlobalRPh maximize the value of their premium ad space, leading to improved overall ad revenue.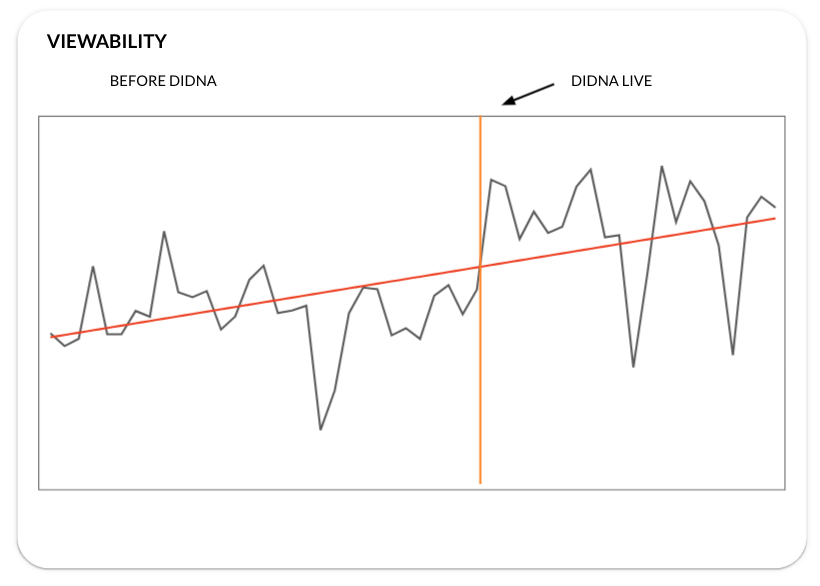 Average Daily Impressions:
With Viewify's Ad Refresh strategy and intelligent lazy load, GlobalRPh experienced an astonishing 87.5% increase in their average daily ad impressions. This surge in ad impressions directly translated to enhanced revenue potential.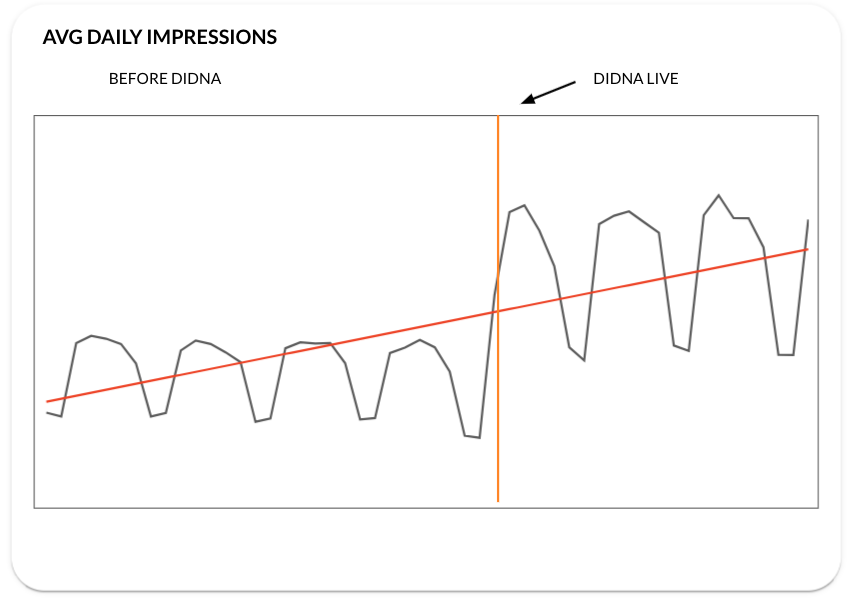 Average Daily Revenue
GlobalRPh's average daily revenue saw a significant jump of 97.7%. This remarkable increase showcased the financial benefits of optimizing their ad viewability and impression volume.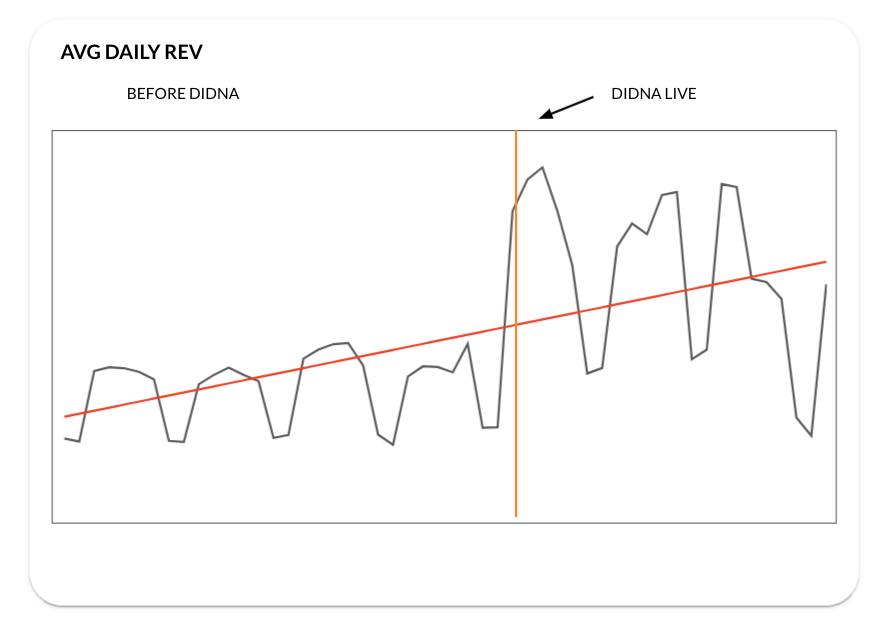 In conclusion, diDNA's Viewify proved to be the catalyst for a remarkable transformation in GlobalRPh's ad revenue strategy. By enhancing viewability, increasing impression volume, and optimizing their ad stack, GlobalRPh not only improved their user experience but also achieved substantial financial gains. The success story of GlobalRPh stands as a testament to the power of Viewify when implemented in collaboration with dedicated and skilled partners like diDNA
Want To See How
diDNA

Can Help Grow Your Business?

Designed for publishers, ad tech partners, and everyone in between, diDNA sits at a unique crossroads between machine learning software and an experienced team of ad operations professionals, dedicated to driving revenue increases for your business.